2018 brings a few new vehicles that are importable under the Canadian 15-year import rule, and we also say goodbye to some favourites that will not have any new importable models from now on. Here is our list of JDM cars you may be thinking (or should think) of importing this year.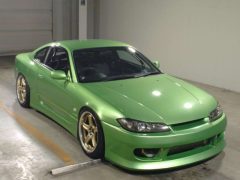 With production ending in 2002, there are no new versions to import. Silvias are popular in the drift scene, boasting a FR layout with the SR20DET (2.0L 4 cylinder turbocharged) engine up front driving the rear wheels.
Picking up a Nissan Silvia S15 Spec R gets you a revised engine putting out about 250hp, chassis and suspension modifications, and larger 4-piston front brakes. It also had a helical LSD and came with HICAS as an option.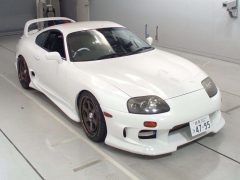 The A80 Toyota Supra shed the boxy body for one with extra curves and a large wing. The 3 liter twin-turbo 2JZ engine produced 276 bhp out of the box. It is legendary for its ability to be tuned vast beyond stock.
Transmission choice included an auto or standard gearbox, with non-turbos receiving a 5-speed and turbos getting a 6-speed. The most desired twin-turbo manual options are fetching a hefty price.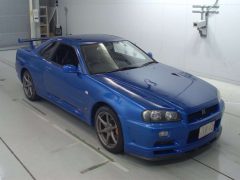 The Nissan Skyline GTR is a fan favourite, featured in video games and movies like the Fast and Furious franchise. The R34 version has been importable for a few years and has become very desirable. Production ended in 2002 and no new models will be available to import.
This version of the GTR had a new body style, had more power and better fuel efficiency (like that is why you'd want one, really). Brake size was increased, suspension was revised and made stiffer and it was offered with a 6-speed manual. You could also get a TV screen that would provide a customizable display of engine data. It also came with a variety of special versions like the V-SPEC, V-SPEC II, M-SPEC, V-SPEC II NUR and M-SPEC II NUR. If you want one of these, you'll likely need deep pockets. But with the right budget, we can find one.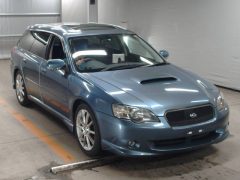 This is the fourth generation of the Subaru Legacy. It was introduced in 2003 in Japan and was completely redesigned from the outgoing model. This model's EJ20 got rid of the twin-turbo and replaced it with a twin-scroll turbo and AVCS. The automatic EJ20 had about 250hp, with the manual versions getting the higher-rated 280hp. The 3.0R and 3.0R spec.B were powered by the new 6-cylinder EZ30 engine putting out about 250hp.
Popular models include the 2.0GT, 2.0GT Spec B, 3.0R and 3.0R Spec B. The navigation deck could be outfitted with a digital gauge cluster, fuel efficiency and a backup camera. The electronic throttle also means this version can have the standard cruise control stalk plugged right in, with minor modification to the steering wheel shroud.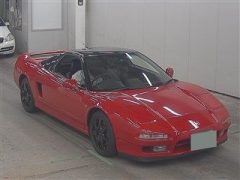 Honda NSX-R
The NSX-R was facelifted in 2002, exclusively for Japan with a focus on weight reduction. Carbon fibre was used throughout, with a vented hood and deck lid. They also removed the audio, insulation, air conditioning and power steering. All the improvements removed about 220lb! Power output was claimed unchanged at 290hp, but was tuned by hand to increase rotating assembly accuracy by about 10x the stock NSX engine.
Mitsubishi Lancer Evolution 8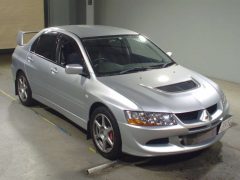 New for 2003 was the Evo 8, the second version of the CT9A model. A 6 speed transmission was available, mated to a 280hp engine with electronic all wheel drive and Mitsubishi's Active Yaw Control. The standard GSR model has Brembo brakes and Recaro seats, while the MR version revised the front LSD, gave 17 inch BBS wheels and was made lighter with the use of aluminum and carbon fibre.
Nissan Skyline 350GT (V35)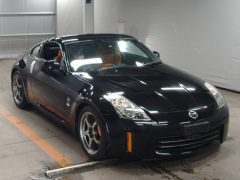 The FairladyZ was first introduced in Japan in 2002 and is a relatively new model to import. The coupe version was only introduced in 2003. It is the same platform as the Skyline 350GT and the Infiniti G35, with mostly cosmetic differences. It is completely different from the Skyline GTR R34 that used the same Skyline name. As it was designed to sell in the North American market as the Infiniti G35, more attention was paid to ensure the car felt luxurious. It could come with a tiptronic automatic transmission or a 6 speed manual. The popular engine was a 3.5L v6 that produced 280hp, but other engines that produced 260hp and 215 hp were also options.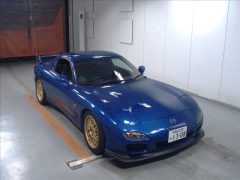 2003 is the last year of fresh Mazda RX-7's – if you really wanted one, you can still find the newest ones available in 2018. All models came with 280hp, except the type RB which had 265hp. The models included: Type RB, Type R, Type RS, Type RZ, Type R Bathurst R and the Spirit R. There are not significant differences between most models. The Type R Bathurst R had adjustable suspension and carbon fibre panels, while the Spirit R had three variants: The Type A, Type B and Type C. Type A had recaro bucket seats, the Type A and B were manual, the Type B and C were a 2+2 configuration with red leather seats, and the Type C was an automatic. The Spirit R models had unique interior cosmetic touches, 17 inch BBS wheels. Type A and B models also had stainless brake line, Bilstein struts and cross-drilled rotors.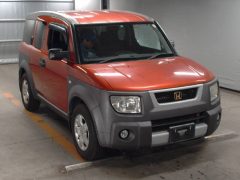 For those of you wanting a reliable multi-purpose vehicle, the Honda Element is a new model that you could only start importing in 2018. It came as a 5 speed manual or 4 speed auto with a K24A motor and about 166hp. It came in 2 wheel drive and 4 wheel drive configurations. It had an option for factory 7 speakers and a subwoofer, cruise control and a LOT of cargo room (with washable floors). The second row of doors opened suicide-style to provide a lot of room, and the seats all folded flat to act as beds. It was called "dog friendly" as you could get a feature pack that included a dog ramp, bed, water bowl and a few other treats.
Subaru Impreza WRX STi (GDB Blobeye)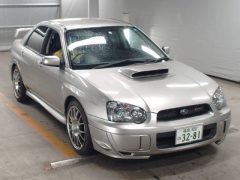 The Subaru Impreza WRX STi remains one of the staples of the import community. In 2003 it had the WRX (GDA) producing 250hp and the WRX STi producing about 280hp. The engine has AVCS, with a 5-speed transmission in the WRX and a strengthened 6-speed in the STi, which also could be ordered with DCCD. The STi also had several upgrades over the older GC8 models, including the aforementioned transmission and large brembo 4-pot / 2-pot brakes. This version is the facelifted "blobeye", with many examples available at auction, as they continued to 2005. This was the last year before the STi was available in the Canadian and US markets. Many love it for its relatively cheap performance, all-wheel drive and huge aftermarket support.