For Auction purchases, You have the option to for us ship your car directly to the port, or to the shop then to the port after we successfully acquire a vehicle for you.
1)  Auction → Shop in Japan→ Port
In the winter months, we recommend sending it to the shop in Japan before it ships out… the  coolant can be changed at your request, to ensure it does not freeze during transport.
Sometimes clients will still prefer to have a vehicle shipped to the shop before coming to Canada because we can get another inspection done, coolant changed, oil and filter changed all for around +$360, and a bunch of additional photos. We will also include images of any blemishes that can be found on the vehicle. You can also ask any further questions that you may have, or for specific things to be checked, or specific work to be done.
This is worked into the total cleared customs price, there's no charge above the 'total cleared customs price' for this!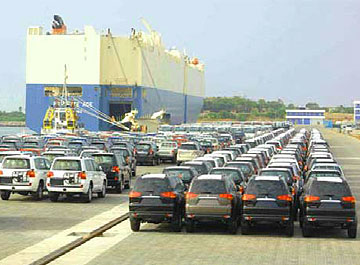 2) Auction → Port directly
In the non-winter months, this option will save around $300 from the total cleared customs price if you choose it!
We can still get approximately 10 extra photos taken of the car from the port staff
Depending on the shipping schedule, this can sometimes expedite the ETA by about a week if we can get the vehicle on an earlier shipping vessel.
We can not have the oil/coolant changed or any further inspection or modifications done if we select this method.
Once you've ordered the car in Japan it takes an average of 5-6 weeks for the car to arrive at the Port of Vancouver.  Shipping from Japan to Vancouver, of course, is included in the total cleared customs price. Once it arrives in Vancouver it goes through customs, which takes 5 business days. Again, this is included in our total landed cost. It is then ready for pickup at the port in Vancouver, or further shipping within Canada. Please note that we can ship to the Halifax port instead if that is preferred!
Vehicles are strapped down securely, without risk of other vehicles colliding into them. If that does happen, the full ICC-A ocean shipping insurance will kick in. At B-Pro Auto, we do everything in our power to streamline the shipping process and take any risks and variables out of the equation so that you can have complete peace of mind.
* – Note: Vehicles can be shipped to Halifax instead of Vancouver. Make sure to contact us if you wish to make this change.
Year-round Pre-servicing
Vehicles can be transported to a shop in Japan before heading to port. At your request, The coolant can be changed to ensure the cooling system doesn't freeze during transport. The oil and filter can be changed, more photos are taken, and it is inspected again. It costs about $360 extra to send it to the shop before shipping out, including the oil/coolant change. This is also a great time to ask for additional work to be done to take advantage of parts availability and local knowledge of your JDM vehicle.
Summer Savings
Vehicles can be transported to the port directly, and could save you around $360 from the total cleared customs price and about one week's shipping time if you choose it. You can still get some extra photos from the port staff.
PRICE MATCH GUARANTEE
We are willing to match the price of any competitor in terms of our import brokerage fee.