Visit our main auction portal here: auction.b-pro.ca
(The old-format auction portal still works for those who prefer it at bids.b-pro.ca)
We have a guest account you can use if you forget password / haven't signed up yet.
User name: japanese Password: imports
Or visit our Yahoo auction site here: yahoo.b-pro.ca
Browse the unique JDM cars available in Auction in Japan. These cars make great daily drivers, collector cars, off-roaders, and winter cars. A low kilometre vehicle can be acquired at a very reasonable cost. We can source and import any 15+ year old car into Canada for you. Of course, you must have a $1000 deposit in before we can lock in a bid for you, but you're welcome to browse in the mean-time and see what's available.
* – Please Note: This is a browsing site; if you type anything in the 'place a bid' box it will simply send an e-mail to us.
When you set up an order to have B-Pro Auto Ltd. source and import a vehicle for you from auction/dealers, you DO NOT have to be a complete expert and know everything. That's why you hire us… to leverage our experience and know-how. We'll handle everything for you. If it's your first time importing, it's impossible to know everything about the Japan auction process, auction sheets, and import logistics. But that's O.K.!
We'll make recommendations based on our industry experience and knowledge to make it as easy as possible for you. We act as a safety net for you. If there's a car that has some underlying issues that we can detect from our years of experience deciphering auction sheets and information, we'll pass that along to you and make recommendations accordingly. They beauty of the process is that we are the expert and you don't have to be. We operate on a flat import fee, so we simply want to ensure you get what you want for as cheap as possible. Since our business gets most of our orders from repeat customers and referrals, it's in our best interest to ensure you are happy with your import. So we will work tirelessly to make sure of that. We will also fully handle the import for you so you don't have to stress about figuring out all the details and intricacies.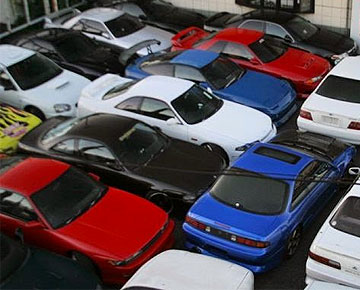 Useful Auction information
When a vehicle is checked into auction in Japan, they have a very useful and essentially uniform system in which a vehicle goes through an inspection process. From this inspection, we have the auction sheet. This helps us to be able to make a better-informed decision, and deduct useful and critical information about the condition of the vehicle. While it's not a 100% perfect system (the inspectors are indeed human!), it greatly mitigates the risk of buying a vehicle that you don't get to personally see before purchasing. A large part of the reason this system was created is because Japan has such a massive used vehicle export industry, and many of the buyers are not physically on Japan soil, so they need a uniform and largely trustworthy system that can be used to evaluate a vehicle before purchasing. It is, in a way, a 3rd party and un-biased inspection which results in no incentive to falsify information on the sheet. The auction employee who prepares the auction sheet and does the inspection is not directly benefited by the sale of the vehicle so there is typically no reason to fudge the facts on the sheet.
Beyond the auction sheet, we will fax the auction house to have somebody physically do a 2nd inspection of the car for you to make sure nothing was missed on the auction sheet, and that no major concerns exist. This is free of charge, and it's something we do once a client has decided that they would like to bid on the car.
-If there's any problems found on the 2nd check, we will cancel the bid for you.
-If all is well, we will proceed with the bid.
-If there's any "gray area", we will contact you to discuss. You can instruct us to cancel, reduce, or proceed with the bid.
-note, auction sheets / translations / second-checks only pertain to the main auctions ( bids.b-pro.ca and auction.b-pro.ca ), the yahoo.b-pro.ca auctions are generally private or dealer listings which are more like ebay.. lots of pictures and descriptions, but no standardized auction sheet/ second check.
Sample Auction sheet with important sections De-Coded

The attached image has text inserts to show what information each distinct portion of the auction sheet represents. Here are some key points to note:
If there is an asterisk * beside the mileage it means that the KM's are not verified, or they have reason to suspect tampering.
The year/month represents the first month/year that the vehicle was registered in Japan. Manufacture month may actually be earlier. This is the Japanese Hesei year. Just add 1988 to the year shown here and you'll arrive at the correct year according to our North American system.
We will get the inspector comments and sales points translated for you into English, so you can be well-informed before deciding to go for a vehicle.
In addition to this, we always have a second check performed on the vehicle before bidding.
Auction Grades
4.5+: Remember, we can only import 15+ year old vehicles from Japan, but the vehicle inspectors are looking at brand new units, and units that are only a few years old as well. Bearing this in mind, you can understand why almost every grade above 4.5 would be reserved for newer vehicles, often with under 20,000 km and sometimes with a warranty still on them. So we will hardly ever find a 15+ year old vehicle with a grade 5, for example. If we did, it would be in showroom condition probably with almost no km`s on it. But just as a rule of thumb, even a really clean vehicle often won`t score higher than a 4 if it's 15+ years old.
4.5: Occasionally we will find a 15+ year old vehicle with a 4.5. This would be an incredibly clean unit that really stands out. A 4.5 would be low kilometers, with a very clean body, and in solid condition.
4: I usually recommend to my clients that we strive to get a 4 grade unit in auction. A typical 4 grade will have an interior and exterior that are well above average. Some impeccably good condition vehicles will receive a 4 grade in the auction inspection. You can expect very minor scratches/dings to be on the vehicle as per the auction sheet diagram. While there still can be issues with a 4 grade, those usually can be weeded out when we provide you with an auction sheet translation and have a 2nd check done on the vehicle.
3.5: Many 3.5's turn out to be excellent units. It's sort of a "gray area" because there are some 3.5's that really could have been a 3 if they got a slightly more strict inspector, and some that should be closer to 4 if they got a less anal inspector. Now, you can expect some noticeable marks/dings on the vehicle, and potentially a few imperfections that you'd want to deal with. Again, you'd have to judge based on the inspection sheet diagram whether or not the blemishes are significant enough to warrant  a pass on the unit. Another interesting point to note, is that sometimes if a vehicle has slightly higher km's, it will receive a 3.5 instead of a 4! And vice versa. It's important to note that the KM's actually play a role in the grade a vehicle is assigned.
3: 3 grade vehicles often have fairly conspicuous blemishes, and typically have had a minor accident in their history. You can determine which panels were replaced, of course, by looking for the panels on the auction diagram that have an 'XX' on them. If the translation and 2nd check come back clean, and you're o.k. with a vehicle that's not mint, you can sometimes get a bargain for a decent vehicle at this grade, but this is only for clients with a high risk tolerance. I don't like to recommend 3 grade vehicles generally.
2.5 – 0: A vehicle in this grade range is simply not worth pursuing, as they will be quite aesthetically rough, and almost guaranteed to have mechanical complications.
R: An R grade vehicle is a unit that has an accident history in it's past that has been repaired. You can get an idea of the severity of the accident by noticing which panels have been replaced, and upon translation you can determine whether any core/rad supports, cross members, pillars, or parts of the floor have remnant deformations from the accident repair.
Interior Grades
A: An A grade interior is essentially perfect..this is something you won't really find on a 15+ year old car… not because the interiors aren't mint, but again they just seem to reserve this grade for newer vehicles as a rule of thumb
B: This is a great interior score, and it means it is very clean, no rips, no tears, essentially like new.
C: C grade interiors are often excellent, and as long as there's no excessive negative inspector remarks about rips, tears, burns… then a C is very often not noticibly different from B. Possibly the interior hasn't been washed/detailed before coming to auction.
D: This is where we start to see signs of excessive wear. A D interior can be quite rough, with very worn seats, cigarette burns, dash deformation, headliner marks etc.
E: Conspicuous interior wear and damage
Understanding the Japanese auction-sheet body diagram markings
A1 Small Scratch
A2 Scratch
A3 Big Scratch
E1 Few Dimples
E2 Several Dimples
E3 Many Dimples
U1 Small Dent
U2 Dent
U3 Big Dent
W1 Repair Mark/Wave (hardly detectable)
W2 Repair Mark/Wave
W3 Obvious Repair Mark/Wave (needs to be repainted)
S1 Rust
S2 Heavy Rust
C1 Corrosion
C2 Heavy Corrosion
P – Paint marked
H – Paint faded
X Need to be replaced
XX Replaced
B1 Small dent with scratch (size like a thumb)
B2 Dent with scratch (size like flat of the hand)
B3 Big Dent with scratch (size like elbow)
Y1 Small Hole or Crack
Y2 Hole or Crack
Y3 Big Hole or Crack
X1 Small Crack on Windshield (approximately 1cm)
R Repaired Crack on Windshield
RX Repaired Crack on Windshield (needs to be replaced)
X Crack on Windshield (needs to be replaced)
G – Stone chip in glass
PRICE MATCH GUARANTEE
We are willing to match the price of any competitor in terms of our import brokerage fee.